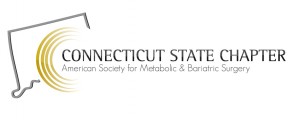 The mission of the Connecticut Chapter of the ASMBS is to encourage collaboration among surgeons, physicians, advanced practice providers, integrated health professionals, and healthcare providers who treat the disease of obesity.
We work to promote prevention, education, and treatment of obesity in the State of Connecticut.
Our focus is on improving access to care for all individuals irrespective of race, religion, or social status.
President: Darren Tishler, MD FASMBS
Vice President: Saber Ghiassi, MD MPH FASMBS
Secretary/Treasurer: Vanessa Malit, MD FACS FASMBS
Integrated Health Chair: Dawn Garcia, APRN
STAR (State Access to Care Representative): Neil Floch, MD FACS
Executive Director: Katy Dunay, CPPM
Members at Large: Dr. Jon Pirrello,  Dr. Juan Holguin, Dr. Grigoriy Klimovich
*Past Presidents:
Dr. Pavlos Papasavas, 2018-2021 (extended term due to Covid pandemic)
Dr. Neil Floch,  2017-2018
Dr. Aziz Benbrahim, 2015-2016
Dr. Jonathan Aranow, 2013-2014



Established the Connecticut State Chapter in 2012
Established an inclusive organization that welcomes participation from surgeons, advanced practice providers, and integrated health professionals from all programs across the entire state, including private practices, medical group system based entities
Proud to be recognized as a top team sponsor for Walk from Obesity events in 2020, 2021 and 2022, having hosted successful walks since 2015
Lead Advocacy efforts since 2018 to expand Access to Care for patients in the State of Connecticut, working with state leaders to pass legislation – our work continues!
Collaborated and coordinated a combined meeting with The American College of Surgeons in Connecticut
Creation and Host of the Obesity Summit – the premier meeting in New England that provides innovative and thought-provoking content – 2018-2020
January 26-27, 2023 – Obesity Summit is back and in person! Looking forward to seeing you soon!